India for Beginners FAQs
Please read our FAQs to fully understand the nature of India for Beginners custom & group tours, our Terms & Conditions, Cancellation Policy, travel tips, and more. If you have any questions, please send us an email and we will clarify.
What is a custom tour and how does it work?
A custom tour is a tour designed for you, based on your interests, preferences, and budget. The first step is to create a personalized itinerary for you, together with you.
The trip will run at your pace. You are in control of the amount of time you spend at various monuments and attractions, and you can stop as many times as you want during the drives, as long as it is safe to do so. However, there are a few things that have time limitations, such as hotel check-in and check-out times, safari times, etc. that can't be changed because these are not in our hand.
We provide a tour manager to each guest, who will be available 24×7 during your trip. He will be coordinating everything — your hotel bookings, drivers, guides — and he will sort out any issues that may come up and answer any questions you may have.
You can instruct your guide to tell you how much information you want — from every small detail to just the basics, so that things will move as per your pace. You can decide these things on the spot. Please note: Guides are hired on a per day basis. Whether they are with you just for one monument or they are with you the whole day (7 hours maximum), they charge the same amount of money.
Within certain limits, there is a lot of flexibility in a custom tour that you don't get on a group tour.
Read these pages to find out about our Team and about our philosophy of travel.
Can changes be made to the itinerary during a trip?
The beauty of a custom itinerary is that is designed for you, with your interests and preferences in mind. We work with you to create the ideal itinerary … but we know things don't always go as planned. Especially in India!
Sometimes we need to make changes to accommodate things like festival traffic, train delays, and other unexpected scenarios.
And there may be times when you would like to make changes. Please make your request to your tour manager. We will be happy to accommodate the change if it's feasible to do so. But please understand sometimes changes cannot be made.
Also, if you decide to not do something on the itinerary, please let us know as soon as possible in advance as we need to alert our suppliers. We work with a network of trusted, reliable guides, drivers, hoteliers etc. and we want to show them utmost respect as we rely on them. Thanks so much for your understanding.
Who leads your tours?
We provide a tour manager to each guest, who will be available 24×7 during your tour by WhatsApp and / or telephone.
Custom tours do not include a leader travelling with you. However, you will have drivers and guides at various places during the trip, which will be indicated in the itinerary, and everything will be coordinated by us.
For small group tours, whether a leader travels with you or not depends on several factors including the size of the group. Please clarify with us whether we provide a tour leader or tour manager to accompany you, or local guides for sightseeing.
What is your booking, refund, and cancellation policy?
We require 50% of the total tour cost to book your trip. We require the final 50% of the cost 45 days prior to your trip. You can make a bank transfer directly to a Canadian bank, a US bank, an Indian bank, or through Wise.com. We will send you the banking details.
Keeping the current situation in mind, we have made changes in our cancellation policy to be as flexible as possible.
If you cancel 45 days or more prior to your travel dates, we offer a 100% refund, minus any non-refundable bookings we have made, plus an administration fee. Within 45 days before departure, we do not offer a refund. Note: All cancellations must be sent by email.
However, if the Indian government suspends travel to India, due to any reason, even a day before your travel dates, we will give you a credit note and you can use the same for your future travel.
Please see our Terms & Conditions document for detailed information about bookings, refunds, cancellations, liability, etc. and read thoroughly before booking with us.
What happens if I get COVID19 while on tour with IFB in India?
As a company, we are dedicated to being flexible and doing everything we can to make our guests feel safe and comfortable. We provide a tour manager to each guest, who will be available 24×7 during your tour.
COVID19 is very unpredictable. We take all the measures necessary to try and prevent it. Our driver will sanitize the car on a daily basis. Our drivers, guides, and other service providers will always have masks on.
If you get COVID19 during your trip in India, we will arrange everything required for you, such as:
We will arrange the hotel for your quarantine (at additional cost).
We will pause the tour and you can proceed with the tour after you recover.
We will not charge any cancellation fee for hotels or guides.
We would charge extra only for transportation such as train, flight, or car (if your tour is paused in an area where we need to resend a vehicle to restart the tour).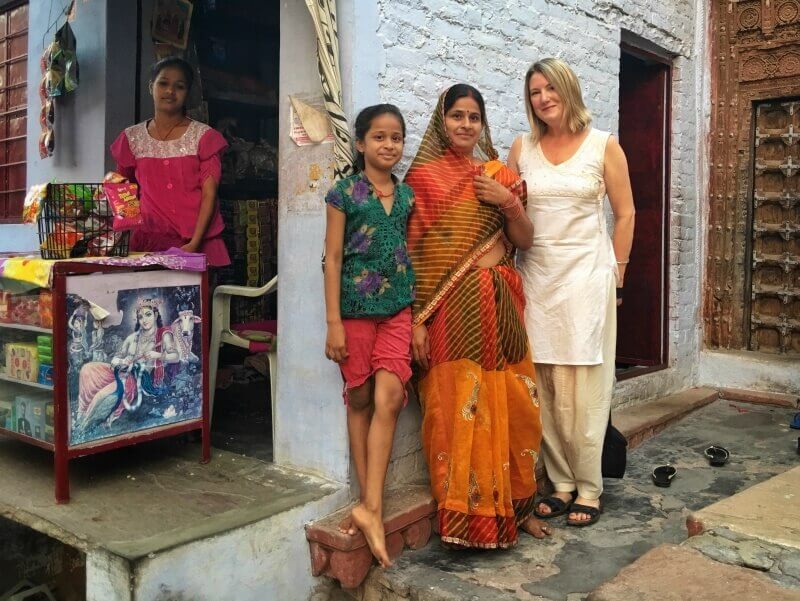 What should I pack for travel in India?
Packing will of course depend largely on the season in India. It can be very hot, very cold, or very wet depending on when and where you travel. Check out these instructive blog posts from Breathedreamgo to help you decide what to bring and what to wear:
What do I need to know before I travel to India?
The most important thing is to understand that things do not always go as planned in India. And this is especially true in the wake of the pandemic. The travel industry was hit hard, and many businesses closed, others are staggering along with insufficient staff, etc. Local flight timings change without notice, trains get delayed, and other unexpected travel delays happen quite often.
It's important to be able to go with the flow – in fact, you could say this is one of the lessons of travel in India. It's also important to try and be as understanding, compassionate, and open as possible (while remaining alert, of course).
If we are not able to do all of the activities listed on the itinerary due to unforeseen changes, delays, closures, etc. — all of which are very common in India — we will make every effort to offer substitute experiences.
There is a belief in India that everything happens the way it is meant to. So we ask our guests to be open to this idea, and to go with the flow, and accept what India offers you.
Travel in India is not about checking things off a list; it is about having an experience. And much of that experience is an inward journey — a journey that cannot be assessed by the usual accounting methods.
Let India change you and transform you … and then you will know the worth of the experience.