We have helped many people travel happily in India.
Andrew and Chee
Vanessa
Betty Fox
---
Colleen P., Canada
Having just returned from a month-long trip to India, I'd like to share my experience with any other women out there contemplating traveling to India. My trip was a 60th birthday present to myself to realize a life-long dream to see India. Prior to finding India for Beginners, I'd almost given up hope of ever going. Stories online and in the media and comments from family and friends had almost convinced me that it wasn't safe to travel there and especially, not as a woman travelling alone. But then I connected with Mariellen and her team at India for Beginners.
The 4-week trip they arranged for me not only provided me with an itinerary based on my interests, but it was also designed to address any underlying concerns I had (i.e., getting lost at the airport, in Delhi, at the train station etc.). They arranged everything minimizing my fears and allowing me to see and do everything I wanted. Some of the many highlights of the services they provide and which I appreciated:
• Upon arriving in Delhi, a homestay with a family that made the transition to India much less overwhelming then it might have been otherwise
• Personal, one-to-one communications with Mariellen who has years of experience travelling and living in India. Her helpful hints and recommendations based on personal experience were priceless
• Passionate, informative local guides; and
• Most importantly, a tour manager who was available 24/7 to catch me if I fell.
I'd like to finish by saying if it weren't for having found India for Beginners, I probably would not have traveled to India. I was able to though, thanks to Mariellen and her team and their willingness to help make my dream become a reality.
A huge, heartfelt thanks to Mariellen for anticipating my every desire and fear, Anjani for arranging such a wonderful trip, and Ujjwal hiding in the wings, silently providing the safety net I needed to know was there to enable me to experience all that is India. Just knowing the India for Beginners team was there provided me with the courage I needed to make this journey of a lifetime.
---
Leslie H., U.S.A.
I just returned from a five week tour of India—all planned through India for Beginners. I wanted to be in India for Holi and then visit up around Rishikesh and throughout Rajasthan. I felt that it would be better if I had an experienced team to help me develop and fine tune my itinerary and take care of the logistics. I am an experienced traveler, but as a solo woman, I felt that the trip would be richer and more hassle free with local, on-the-ground support behind me. It was the best decision I could have made. I feel that because of this planning and support, I was able to fully experience and enjoy India.
Honestly, this is the best trip I have ever taken and everyone who has seen my pictures and has seen me afterwards has said that they have never seen me happier and can't believe all the places I went and things I did. I can't thank Mariellen, Anjani and Ujjwal enough!
---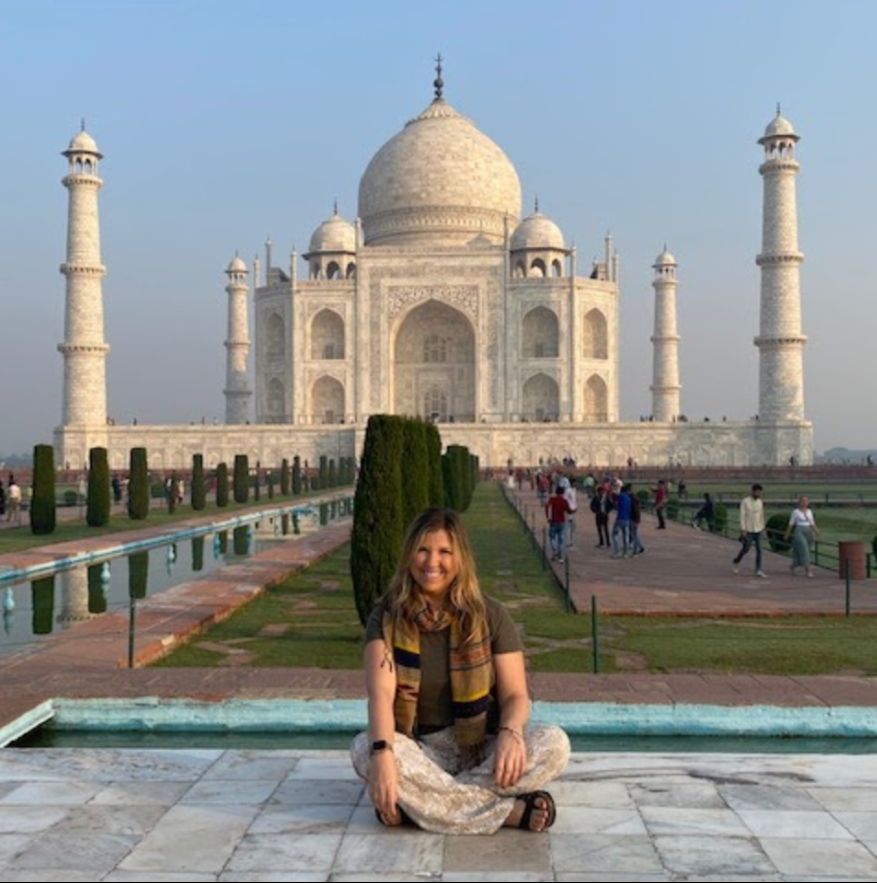 Chelsea M., USA
I highly recommend India For Beginners! As a woman traveling solo in India for the first time, I did extensive research, and from the first conversation with India for Beginners, I knew they were a different kind of tour company. The team spent time getting to know me and explaining everything that I might encounter on the trip while planning an itinerary that was perfectly tailored to my interests! It's like they knew me!
India for Beginners provided peace of mind and sense of organization in a chaotic place. The driver and tour guides were always on time, there were no hiccups and the India for Beginners team frequently checked in on us to make sure everything was going smoothly.
The team were so accommodating when a friend was able to join last minute, and we had the absolute BEST trip and learned so much about the country and the culture.
I'm already looking to visit again in 2024 and will definitely work with India for Beginners again. To Mariellen, Anjani, and Ujjwal …THANK YOU for a magical trip!
---
Rita N., USA
Traveling to India was a dream of mine for many years. Even though I had been on many self planned and guided trips around the world I just didn't know where to start. Luckily somehow I stumbled across the India for beginners page on Facebook. From first contact Mariellen and her team really listened to my desires interests and needs.
They made the trip easy to navigate and plan. I had seamless interaction from planning with Anjani who help me design a trip that suited me to Ujjwal the daily logistics coordinator who helped me change minor things around when needed while on tour or any questions. Mariellen gave great tips before Departure to ensure any doubts were put to rest. India is a beautiful chaotic place filled with the most kind people. Everything you can imagine is there. Such an incredible place. India for beginners is a team of such wonderful people. I can't wait to return one day. And will entrust my trip to them again
---
Ceatta B.
All went great, thank you so much for arranging the trip and helping me along the way with all the extra help and attention. You truly made the adventure very easy. I am very grateful that I stumbled across India for Beginners, it's exactly what I needed. India is often overwhelming and it would not be as enjoyable navigating it alone. As a solo adventurer, it was exactly what I needed, thank you! . Traveling to India was a dream of mine for many years. Even though I had been on many self planned and guided trips around the world I just didn't know where to start. Luckily somehow I stumbled across the India for beginners page on Facebook. From first contact Mariellen and her team really listened to my desires interests and needs.
---
Ziggy M.
After we decided to go to India on the spur of the moment from Sri Lanka, we did some fast research on options. We knew we wanted to see the Golden Triangle and spotting a tiger had always been on our bucket list. We also knew that they were hundreds and hundreds of companies offering Golden Triangle tours. Referred by a friend, I was already familiar with Mariellen's amazing blog Breathedreamgo.com. We reached out to Mariellen who helped build the perfect package for us. Working with her India for Beginners partner Anjani, we received a customized tour — Delhi-Agra-Ranthambore Tiger Safari-Jaipur — that exceeded our expectations. Their tour offered a private driver for the entire trip. The car was spotless, the driver professional and polished and very kind. In each city a local guide hopped in the car and escorted us through the major attractions. The driver and guide combination made sure we maximized time at each location and could avoid the inevitable 'hassling of the tourists'. Not only would they share the secrets of the sites, but they gave us glimpses into the real world of India, telling stories of arranged marriages and how they were brought up. Hotels didn't disappoint either; perhaps the best part was the full western/Indian buffet breakfast.
To top it all off we had a contact 24/7 to address questions should any issues arise. And lastly, before I forget to mention it, they knew I had an interest in photography and shopping and were only too happy to let me stop to take pictures and escort me into some fabulous markets. We loved every minute of his vacation and could not have imagined doing it without the help of Mariellen and Anjani.
---
Amber Kleid, USA
India was a vacation, and it was so much more than JUST a vacation. On my first day, I wandered through the markets alone and felt safe. I was just as curious of the locals as they were of me. I would smile and say, "Namaste" and they'd get a surprised look and a big smile on their face, place their hands at their hearts, give a teeny bow, and say it back to me. I miss that act of honor so much.
I went to Rishikesh thinking I was going to take this deep dive into my yoga practice but India had other plans. Mostly I spent my time watching the world go by in cafes, enjoying coconut lattes while having worthwhile conversations with strangers, and getting my photo taken with families like I was a movie star!
I wandered the markets, bartered (won some, lost some), ate the most amazing FRESH foods, photographed the world as I saw it, had a tiny part to play in a wedding, got lots of henna, and had a visit with an ayurvedic doctor who helped me understand why my brain functions like it does – no US doctor ever took the time to explain.
Despite the chaos with the traffic, the huge amounts of people, and the dust that is there no matter how hard you clean or bathe, there is a softness in India and I will miss that so very much too. I want to hold onto that most of all.
I'd like to give a shout-out to Mariellen Ward because her India For Beginners Tour email made its way into my inbox at the perfect moment. She and her partner Anjani Nandan gave me an experience of a lifetime! The tour guides and drivers they hired to haul me around Delhi, Barsana, Agra, and Jaipur were professional, extremely knowledgeable, a ton of fun, and I felt very safe. The homestays, hotel, and Ashram were wonderful and Mariellen even spent extra time with me in Rishikesh as I settled in and took me to her fav restaurant for some incredible gluten-free pasta! I hope you both know how grateful I am to have had this unforgettable experience and I will recommend India for Beginners any day with flying colors and fanfare!
India is far, far away but I WILL visit again, I have to. I left a little piece of my heart there.
Amber Kleid, March 2022
---
Jayne H., Australia
My tour with Breathedreamgo completely blew my mind. They planned my trip with many emails prior to my Melbourne departure. They listened, picked out my interests, and made relevant suggestions. Mariellen chatted with me on the phone to answer all my travel queries, and planned a truly magical tour — tailored to me. I toured India alone and was so pleased to be met at the airport by a company manager, who introduced me to a wonderful, pleasant, calm, and extremely helpful driver.
At each city, I was met by a very knowledgeable local guide, who opened my eyes to the wonder of the city — the amazing forts, monuments, palaces, and history. I loved every moment — and I have travelled a lot, and I'm very particular. If you're a woman who would love to see India, and you are hesitant — a little nervous and unsure — don't be. If the idea of India fascinates you, just go. My only problem is that I don't want to leave. I put my trust in the India for Beginners team and they delivered. Showed me a jewel on earth. I give them 10 out of 10 stars.
---
Beverly J., USA
I loved that our tour was customized by Mariellen of Breathedreamgo, and Anna of Open Eyes to include so much of a focus on women from the Days for Girls Kit distributions, to most of our guides being female, to visiting the young female taxi driver's home, and to visiting the Sheroes' Cafe in Agra. It was a nice balance between tourism, and "bringing change for the better." Experiencing the Holi Festival in Jaipur was an over-the-top WOW moment … way out of my comfort zone, but it was an amazing time to share in such a sacred, cultural experience. I will never forget it!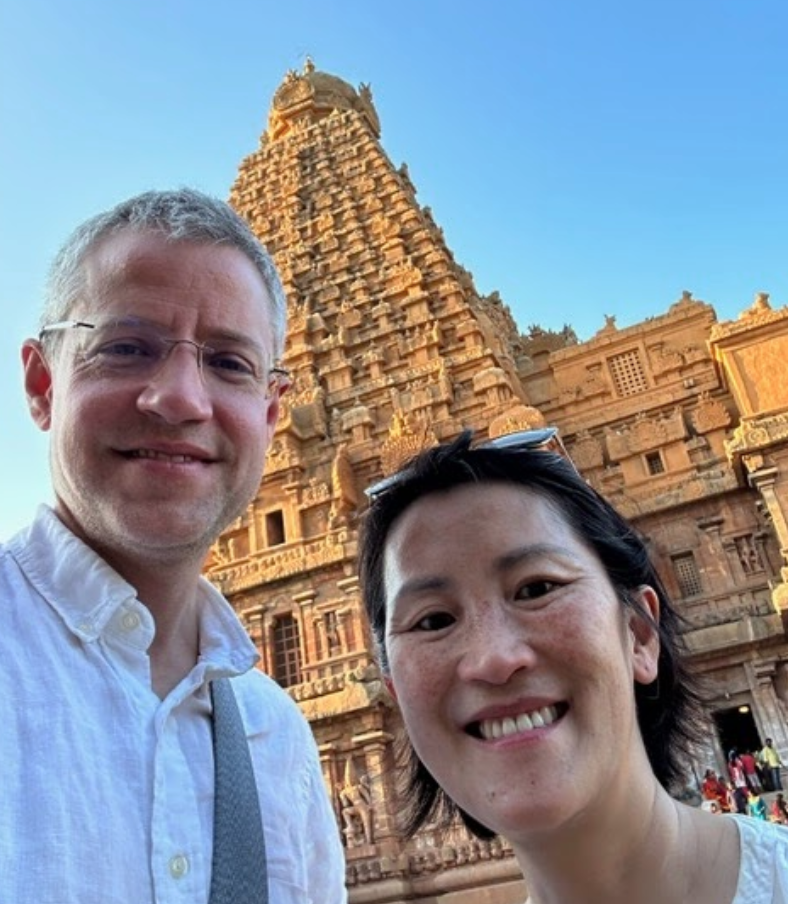 ---
Andrew & Chee, USA
As beginners, navigating India seemed daunting, but with the right guidance from India for Beginners we had a journey that was unforgettable and life changing. India is such a big country with regions that are culturally different that it would have been overwhelming if we were to plan the trip ourselves. Instead, Mariellen and her team curated an itinerary that was designed with our preferences and interests in mind. And during our trip, India for Beginners were there to answer any questions that we may have had.
One of the highlights of our tours was the presence of knowledgeable local guides who accompanied us on every excursion. These guides were not just experts in the history and culture of the regions we explored, but they were also passionate storytellers who brought India's vibrant past and present to life. I also can't say enough about our full-time driver. He was so personable and fun that long drives flew by and introduced us to hidden gems and local experiences that we would have otherwise missed.
We traveled for 2 ½ weeks in late Dec. and early Jan. 2023. One of the most memorable nights was when our hotel, Kaldan Samudhra Palace hosted a truly "New Year's Extravaganza" that rivaled any that we attended.
Thanks to India for Beginners, our journey through India became not just a vacation but an immersive, enlightening, and unforgettable experience. They handled all the logistics, ensuring our safety and comfort, so that we were able to focus on soaking in the beauty, embracing the chaos and savoring the flavors of India. — Andrew and Chee, USA