A place of transformation, Part 2
By Leslie Hanes
Part 2 of photographer Leslie Hanes' trip to India with India for Beginners. Please see A Place of Transformation, Part 1 here.
Part 2: Elephants, horses, and camels, oh my!
There are three symbolic animals that you encounter in India and they are often depicted in the miniature paintings you find in Rajasthan.
The first important animal is the elephant. This is where Agra comes in. It is known for one of the greatest wonders of the world: the Taj Mahal. But in addition to this overwhelming and iridescent architectural symbol of a man's love for a woman, there is the Wildlife SOS elephant rescue centre. Here they rescue elephants that have been misused as tourist attractions or made to do brutal physical work. In India, elephants have always symbolized good luck and are often a welcome symbol. (Think trunk up!)
At WIldlife SOS they asked us, "How do you control such a huge beast to be used by mankind?"
The answer is something called phajaan in Hindi, and it is the process of crushing an elephant's spirit and soul. As I listened to our guide's description of this process, I literally started to cry. I felt a connection with these elephants and I was deeply moved to see them given freedom at this preserve, even late in life. Now they were able to live a happier life, not at the mercy of others.
Perhaps I felt that I too was being set free from all the difficult things — the years of COVID, the great losses that had happened in my life, and all the betrayals and heartache I had experienced over the years. Like the elephants, I was no longer bound in chains. Here, in India, I could dress with flowing scarves and kurtas, I could deck myself with jewelry and adorn my body with mehndi and I could dance and enjoy life. I, too, was experiencing freedom.
Horses symbolize power: Since Horses are the symbol of power, I think I was somehow also getting my power back. With the right help, I was living my dream of a solo woman traveler in India — powerfully taking charge of my life and experiencing it fully.
Camels are love: Camels stand for love and here I was learning to love myself. It didn't hurt that I also rode a camel in a Thar desert in the far reaches of western Rajasthan. It was a plus that my camel was a gentleman that didn't spit or drool and was, in fact, very photogenic and calm. The camel is one of the most important animals in Rajasthan – think of the camel caravans on the silk road that went through Rajasthan!
Meeting the Sacred
After the celebration and the symbolic came the sacred.
I visited many different temples, mosques, and gurdwaras during my travels in India. I believe that in these sacred places you are invited to find hope and peace and a kind of internal centering and connectedness. I was connecting with the divine, but I didn't realize until almost the end of my trip, that all these encounters were having a cumulative effect on me.
I was finding a stillness and trust that prayers are indeed powerful and are heard. I was finding a deep connection with other seekers as I walked clockwise in a temple and embraced my deepest wishes for myself and loved ones and the world. It was a deeply moving experience to think that I was walking in the same footsteps as other pilgrims had down the centuries. I was enveloped in the aroma of incense and flowers and the sound of bells that I also rang to announce to the gods, "I am here!"
Joyously: "I AM HERE!" I am alive!
Overcoming obstacles along the path
There were things I wanted to do while in India, but I wasn't sure if I could because it would mean overcoming some entrenched fears that I had. The first one was the fear of crowds, which I pretty successfully overcame during the Holi celebration. I felt the power of the ancient communal ritual of Holi take me to a higher level of thought and, in turn, this took me out of myself and into the moment where I deeply connected with others. So there was no room for fear because I felt so completely joyous!
The second obstacle to be overcome was a fear of heights and I am proud to say that I was able to walk across several narrow suspension bridges swinging high above the Ganges River many times while in Rishikesh. The beauty of this holy river, cutting deep into the dipping and monumental mountains, consumed my vision and thoughts. The river became an expression of life and dreams — not fear. I went to incredible aarti ceremonies near Rishikesh on the banks of the Ganges River. It was here that people came to pray every night at sunset, often for loved ones, past and present.
There were priests lighting flames by the waterside and helping with prayers, or you could do as I did and bring your own offering of flowers, a candle and incense delicately balanced inside of a large leaf and sold by locals. The roses, marigolds, and jasmine incense along with a candle served to awaken all the senses. With chanting all around me, I made known to the great spirit my intentions and dreams before sending my bouquet with its lit candle into the currents of the powerful Ganges River. With darkness failing around me, I followed my little flame until it became one with the mother river. As I did so, the well of my soul filled up with something powerful and mystical — way beyond myself. I had let go of any attachments or worries for that suspended time. It is funny, because now I could walk across the suspension bridge.
How could I not be transformed by experiences like these? I had played Holi, seen the greatest wonders in the world, experienced sacred sites, stayed in palaces (literally), felt beautiful and happy, adorned myself, became a celebrity in Indian family photos, and I had hobnobbed with the divine.
Looking back, thank goodness I had taken the leap of faith and come to India. I felt safe and embraced and nourished like a lotus flower coming out of the mud and blossoming. I read that there is a lotus flower in every person's heart, and when it opens they will achieve enlightenment
So in conclusion, there are only two questions. When will I go back to India and where will I visit next?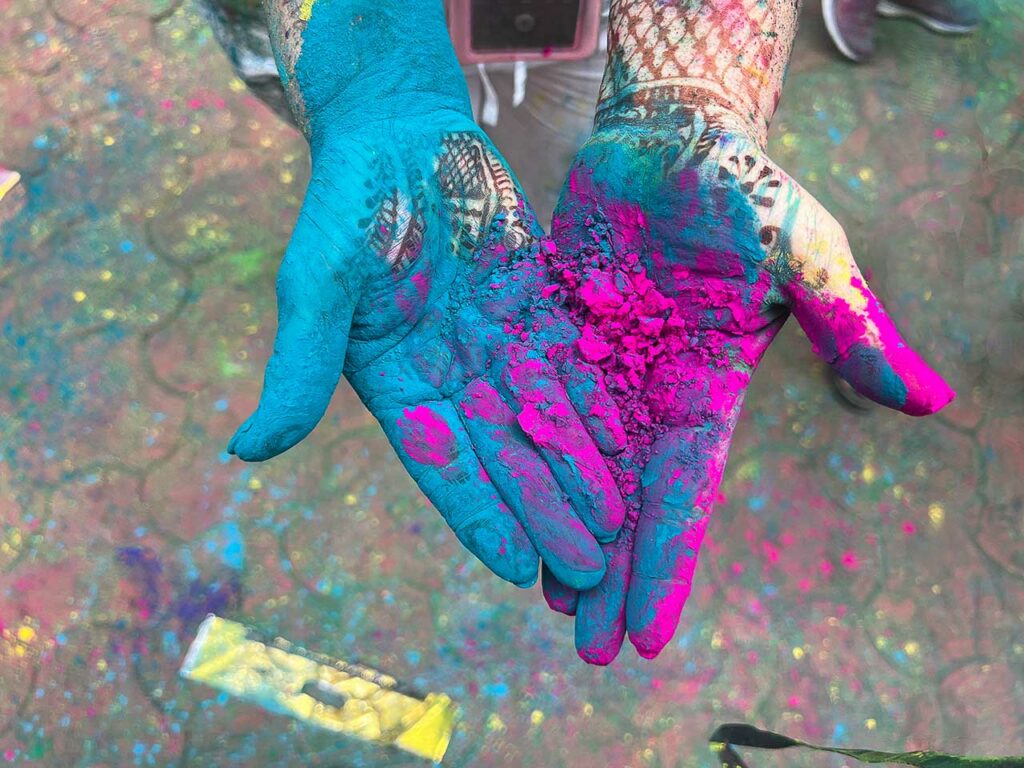 *WORDS AND IMAGES Copyright Leslie Hanes 2023